Used Boats:
15
Adverts Displaying:
1
-
10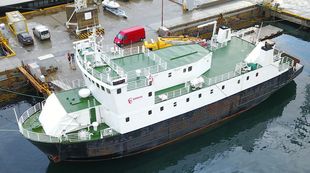 Built: 1977 after DNV 1A1K B ICE C Yard: Trønderverftet A/S, Hommelvik Yard no.: 37 RORO PAX FERRY NORWEGIAN COASTAL TRADING AREA 4 (EU C ) NEW TRADING CERTIFICATE VALID UNTIL AUGUST 2022 Tonn: Brt: 798 Netto tonnage: 301 National Security tonnage: 421 T The vessel has a crew of 4 persons: Captain, Machine Chief, 2 sailors Length: 41,56 m Breadth: 9,7 m Depth: 4,22 m Draugth: 3,27 m Passenger: 150 PAX (Original 200 PAX)...
read more
Year:
1977
Length:
41.57m
Location:
Nordland Norway
Price:
$480,000

View Details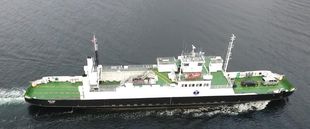 Well maintained car ferry with Becker rudders, built for North-Norway with operation of 2.5 meters sificant wave height. The ship operate in trading area 2. Maximum deck load 267.5 tons + passenger. Max axle load 13 tons. The tire load can consist of up to 167.5 tonnes heavier vehicles with a center of gravity not exceeding 2.05 meters above deck counted amidships, as well as 100 tons of passenger cars with a center of gravity 0.8 meters above the main deck. The ferry is in daily traffic and will end the contract with the Norwegian Goverment around 31 of Descember 2020. Bow and stern V...
read more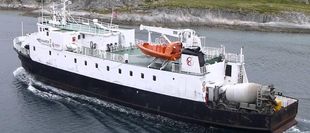 Well-maintained Ro-Ro pax ferry built according to DNV regulations and later converted to Ro Ro passenger / cargo ferry. The boat is now at the yard for annual passenger certificate renewal. The vessel has an EU D certificate 25 nautical miles from land. The vessel has very good maneuvering properties and is equipped with Becker rudder, propeller nozzle and swivel propeller system. Furthermore, it has a 250 kw bow thruster with start and stop from bridge. Separate cargo area with keel of about 70 square meters. Load crane on top deck with hydraulic hatches down to the lower cargo room. Cargo 1...
read more
Year:
1973
Length:
48.95m
Location:
Nordland Norway
Price:
$900,000

View Details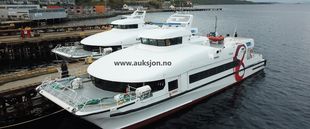 3 x High Speed Carbon Catamaran 35 meter - 250 pax• Docked: september 2020 Built: 2010 / 2010 / 2011 by Baatservice Mandal • Construction material: Carbon Trade area: HSC Cat.A (NMD 3) • Tonnage: 329 • Passengers: 250 The vessel is built in accordance with DNV regulations for high-speed vessels ref. DNV Rules for High Speed Light Craft and Naval Surfase Craft, pt. 3 Ch. 1 Sec. 2B. LOA 34.83 meters Width (molded) 10.50 meters Depth 5.90 meters Draft 1.47 meters Height DWL - mast top 9.61 meters Height keel - mast top 11.08 meter...
read more
Year:
2010
Length:
35m
Location:
Nordland Norway
Price:
€3,280,000

View Details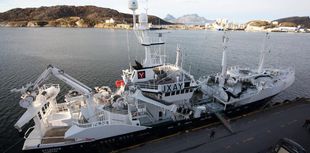 Norsk Megling & Auksjon AS has now received exclusive sales of MS Øygarden. We can also offer delivery of the vessel worldwide. Continuous inspection and viewing. Year built: 1986 Building (yard): Simek Båtbyggeri A / S, Stord. Owner (owner): Sen Havfiske AS, Straume. Designer Kverndokk & Eldøy As Class (Class) .: DNV-GL 1A1 STERN TRAWLER ICE C valid until 31.05.2020 Safety crew 6-man crew Cruise area World Wide Tonnage (Tonnage): Brt 1481 t, Dwt: 1757 t Dimensions (size): Loa: 61.40 m-Lbp: 23.9 m-B: 10.0 m-D: 4.5 m. Rigge...
read more
Year:
1986
Length:
61.40m
Location:
Nordland Norway
Price:
€2,500,000

View Details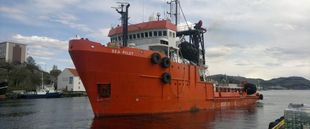 The vessel was new certificated in DNV GL in 2015 until 2020. Pitchable Azimuth foreward: 1 x Deutz 1217M diesel, 973 HP Prospect Sea Pilot: http://www.chriship.no/doc/seapilot/spesifikasjoner.pdf DNV -GL http://vesselregister.dnvgl.com/VesselRegister/vesseldetails.html?vesselid=10142...
read more
Year:
1976
Length:
59.7m
Location:
Rogaland Norway
Price:
$450,000

View Details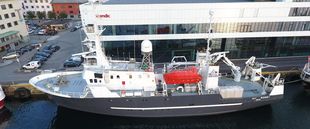 Dynamic Positon, Sonar, Sea Bed mapping sounder, Stabilizator hydraulic retrcatable keel, ROV Winches, ROV A-frame, Trawlig winches, Labratorium, ROV Hangar, 4 hydraulic cranes etc. The vessel was built in 1980 and was owned by and commissioned by the Institute of Marine Research until the autumn of 2016. The vessel underwent 5-year class spring 2017. Lighter upgrades and mounted V-sat, satellite TV, and ECDIS were performed. (Furuno ecdis). The vessel is well suited for many types of missions, equipped with an arrangement for trawl / towing missions. Various winches for depth me...
read more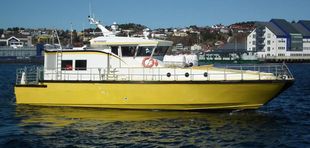 M / S Intensive, LHAV, has the following technical specifications: Construction yard / year boat equipment AS / 1993 LOA 17.55 m Width 4.80 m. Br.t 45 Brt. Engines 2 x 956 kw MAN 12 V LE 404 Gear / propellers: Reintjes / Hamilton Vannjet Cruising speed 37knop Top speed 40 knots Number of pax 28 passengers 2 man operated Trade area 4 / 25 nautical miles from land With 28 pax. Navigation equipment 2 radars Communication equipment 1 x VHF, 2 x portable VHFs Navigation Equipment: Radar 1 Anritsu Radar 2 Anritsu Standard Compass: Kronh NOR 250 Compass: GYRO Map machine: Admira...
read more
Year:
1993
Length:
17.55m
Location:
Nordland Norway
Price:
€220,000

View Details
Beautiful passenger / cargo catamaran build after DNV HSC 2000 code area A with 212 pax and 32 pallets of cargo. The catamaran has been operating since new beetween Lofoten Island, city of Bodø and Sandnessjoen, Helgeland. The vessel is now relased for sale and brooker well assist with delivery! Please call Morten Larsos + 47 90186230 The vessel is now under voyage and will be located 30 meters from our office. Showchace and video inspection by Teams / Skype / whatsap! New videos will be relased tomorrow....
read more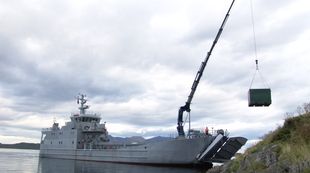 Length overall: 60,58 m Width: 10,3 m Draft (KVL): 2.10 m Net tonnage: 347 tonnes Gross Tonnage: 907 tonnes Transport deck: Length: 54,5 m Width: 6,6 m Heigth: 3,6 m Bow port: Width: 4,0 m Heigth: 3,8 m Stern port: Width: 4,3 m Heigth: 3,5 m Capacities Diesel fuel capacity: 135 m3 Fresh water: 41 m3 Range: 8900 nautical miles (11 knots) 2 x Main engines are re rated from 1800 to 1650 RMP From 612 hp to 469 hp Consumption 3300 liter in 24 hours Palfinger MH120 Crane was mounted in 2005 GENERAL DETAILS: Length overall: 60,58 m Width: 10,3 m Draft (KVL): 2.10 m Net tonnage: 3...
read more